K-Prep HPLC Device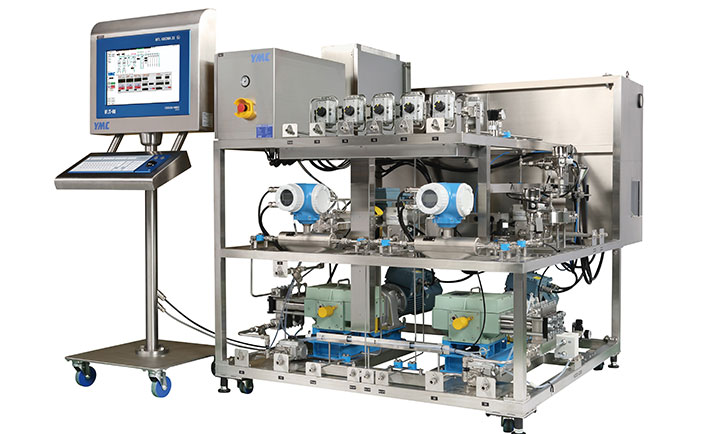 K-Prep is a preparative chromatographic system corresponding from lab scale to industrial scale. Fully automatic operation by PC is possible. Chromatographic data and instrument data can be recorded automatically.
K-Prep LAB is designed for laboratory scale purification. It is applicable to columns with inner diameter of 20 to 200 mm. K-Prep FC is designed for industrial scale purification. It corresponds to a GMP production plant and is capable of corresponding to validation at IQ/OQ. K-Prep EX is an explosion-proof system for GMP production plant. Fully automatic operation by PC from non-explosion-proof area is possible.
Fully automated continuous operation via computer control.
Precise and speedy isolation by isocratic or gradient elution operation.
Economically efficient with recycle separation.
Comply with GLP/GMP validation.
K Prep Lab
LAB100S

LAB100G

LAB300S

LAB300G

Gradient capability

no

yes

no

yes

Flow rate range

1-100 mL/min

1-300 mL/min

Flow rate accuracy

±2% (10 mL/min and above)

±2% (30 mL/min and above)

Maximum Pressure

15 MPa

10 MPa

High pressure line

1/16" (0.8 mmI.D.), SUS316

1/8" (2 mmI.D.), SUS316

Suction line

1/8" (2 mmI.D.), FEP

1/4" (3.9 mmI.D.), FEP

Solvent channel

2ch

4ch (2 × 2ch)

2ch

4ch (2 × 2ch)

Fraction collector

5-channel switching valve method

Sample injection

automatic injector (50 mL loop)

automatic injector (100 mL loop)

Sample syringe

25 mL (reciprocating for large quantity)

Detector

UV/VIS (195-600 nm)

Control and display

laptop PC and programmable logic controller

Software operating system

Windows 7

Power supply

AC 100V 50/60 Hz

0.6 kW

1.1 kW

0.6 kW

1.1 kW
K Prep FC
Gradient capability

no

yes

no

yes

Flow rate range

1-750 mL/min

1-1500 mL/min

Flow rate accuracy

±2% (75 mL/min and above)

±2% (150 mL/min and above)

Maximum Pressure

10 MPa

Fraction port

1/4", SUS316, Swagelok fitting

1/4", SUS316, Swagelok fitting

Inlet port

1/4", SUS316, Swagelok fitting

3/8", SUS316, Swagelok fitting

Solvent channel

2ch

4ch (2 × 2ch)

2ch

4ch (2 × 2ch)

Fraction collector

5-channel switching valve method

Sample injection

sample pump(1-300 mL/min)

Detector

UV/VIS (195-600 nm)

Control and display

laptop PC (changeble FA PC) and programmable logic controler

Software operating system

Windows 7

Power supply

AC 100V 50/60 Hz

0.6 kW

1.1 kW

0.6 kW

1.1 kW
K Prep EX
Gradient capability*

yes

yes

yes

yes

Flow rate range

30-3000 mL/min

60-6000 mL/min

125-12500 mL/min

250-25000 mL/min

Flow rate accuracy

±2%
(300 mL/min and above)

±2%
(600 mL/min and above)

±2%
(1250 mL/min and above)

±2%
(2500 mL/min and above)

Maximum Pressure

10 MPa

Fraction port

3/8", SUS316,
Swagelok fitting

1/2", SUS316,
Swagelok fitting

1/2", SUS316,
Swagelok fitting

3/4", SUS316,
Swagelok fitting

Inlet port

1/2", SUS316,
Swagelok fitting

3/4", SUS316,
Swagelok fitting

3/4", SUS316,
Swagelok fitting

1", SUS316,
Swagelok fitting

Solvent channel

4ch (2 × 2ch)

Fraction collector

5-channel switching valve method

Sample injection

sample pump
(1-300 mL/min)

sample pump
(1-1000 mL/min)

sample pump
(1-1000 mL/min)

sample pump
(30-3000 mL/min)

Detector

UV/VIS (195-600 nm)

Control and display

FA PC (control at safe area) and programmable logic controler

Software operating system

Windows 7

Power supply

three-phase AC 200V 50/60 Hz

4 kW

15 kW

15 kW

23 kW