Biostream Chromatography Equipment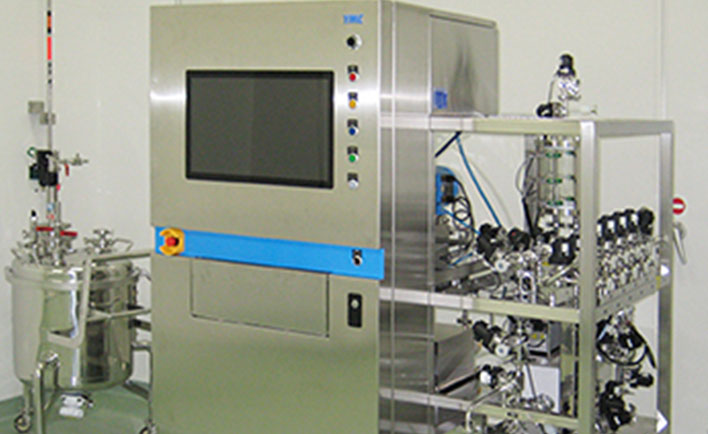 BioStream is a biochromatography device and has been developed with YMC's experience and technology. This system is superior in operability, performance and quality and it achieves hygiene, speed and high purification which are required by the separation and purification of biotechnology-based pharmaceuticals.
Suitable for downstream processing for biopharmaceutical manufacturing.
Compliance with cGMP and made in Japan.
Sanitary design superior in cleaning.
Excellent operability provided by the largest 21.5-inch touch panel screen in this industry.
Low flow pumping provided by the quintuplex diaphragm pump *.
Compliance with IQ/OQ validation and CSV.
K Prep Lab
Model

BSTP-800

BSTP-03K

BSTS-03K

BSTS-10K

BSTS-30K

Max.flow rate
(mL/min)

800

3000

3000

10000

30000

Device pressure limit
(MPa)

0.5 (Max.0.6)

Ambient temperature
(°C)

5-30

Wetted material

PFA, PTFE, Quartz, Glass, EPDM

SUS316L, PTFE, Quartz, Glass, EPDM

Sensor

pH sensor, Conductivity sensor, Pressure sensor, Flowmeter sensor,
UV sensor (3 variable-wavelengths measurable)

Other function

Air trap, Air sensor, Column bypass and Column switching

Control software

BioStream Software

Dimension
(W x D x H)

800 x 900 x 1300 mm

900 x 1100 x 1800 mm

900 x 1100 x 1800 mm

1300 x 1200 x 1800 mm

1800 x 1500 x 1800 mm

Weight (kg)

200

250

300

400

600

Utility

Single-phase 100V(15A)

Three-phase 200V(20A)

Three-phase 200V(30A)

Three-phase 200V(40A)

Instrument air, Dry air